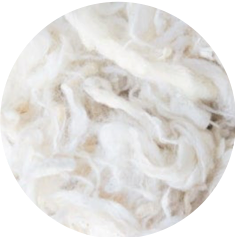 100% WOOL
Rugs bespoke.com sources wool from live sheep sheared ethically and humanely, as a natural part of their health/maintenance routine. Wool fibres are durable, naturally resistant to stains, and wonderful for insulation. Comforting underfoot, wool is a great option for adding a soft and plush textile to any regularly trafficked space in the home. New wool rugs—especially hand-tufted—will shed at first, but frequent vacuuming will help diminish this natural property.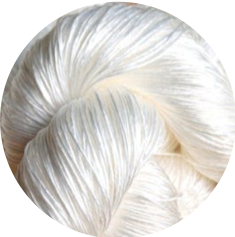 SILK, VISCOSE, & TENCEL
Lustrous and luxurious in look and feel, silk, viscose, and Tencel are perfect options for a fine, sumptuous material underfoot. With their subtle sheen and extremely soft hand, these fibres are best suited for low-traffic areas and bedrooms due to their delicate composition. When fine fibres like viscose, sari silk, and silk are blended together with a durable material like wool, they are sturdier and more fortified for a longer-lasting addition to homes.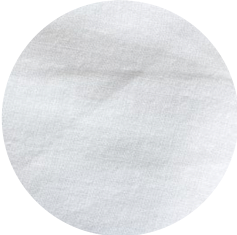 100% COTTON
Generally used in flat-woven constructions, cotton is soft and easy to care for. It is also more affordable than wool. Cotton rugs are a great option for kid and pet-friendly homes and typically have a more relaxed or casual look.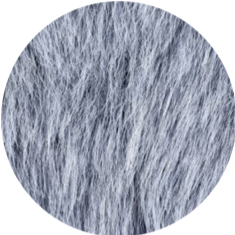 SYNTHETICS
(Polyester, Polypropylene, PET, Acrylic)
Mostly used for power-loomed constructions, these manmade fibres imitate the look and feel of natural materials like wool and sometimes silk. They are strong, durable, and inherently stain-resistant materials that are easy to clean and care for—lending the perfect option to kid and pet friendly homes or heavily trafficked rooms. Not all synthetic rugs can be used outdoors, but polyester, PET (recycled plastic bottles woven into a soft and durable fibre), and polypropylene fibres are often treated to be weather-resistant for outdoor use. Compared to other materials like wool and silk, synthetic rugs are a fraction of the price and are perfect for bringing stylish and budget-friendly looks to homes.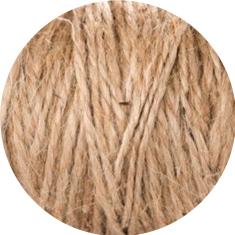 NATURALS
(Hemp, Jute & Sisal)
Natural fibre or plant-based fibre rugs ground spaces with organic and versatile texture. Jute, sisal, hemp, and sea grass rugs are durable and strong, perfect for layering with other textiles, and they are sourced from renewable materials. While many natural fibres are coarse and sometimes rough to the touch, jute is the softest plant-based fibre and often has a naturally soft hand. These rugs are a great accent in mid to high-traffic areas but should not be placed in spaces with a high-moisture content.